Bielefeld doesn't exist in a single static location and moves as is needed. It borders Florida, Kentucky, Maine, and Minnesota all at once while still being found in the Sea of Japan, a few miles off the northern shore of South Africa, knocking Germany aside to hump France, and then pretending to be a tropical island. It moves on its own wont and does so with such grace that the inhabitants are completely unaware of the change. If faced with absolute absolute danger, it lifts its skirts and trots even further away. Its current location is between the UK and Denmark.
Geography
Location
Current: Northern Europe
Area
84,421 km2
Area rank
none
Coastline
2,997 km
Highest elevation
2997 m
Highest point
Strahlendeberg
Country
The Sovereign State of Bielefeld
Capital city
Bielefeld City
Demographics
Demonym
Bielefeldan
Population
1,349,115 (as of 2014)
Density
68.4 /km2
The Sovereign State of Bielefeld
Edit
The Sovereign State of Bielefeld is a massive, environmentally stunning nation, ruled by Parliament with an even hand, and renowned for its compulsory military service. Its hard-nosed, hard-working population of 1.3 million have some civil rights, but not too many, enjoy the freedom to spend their money however they like, to a point, and take part in free and open elections, although not too often.
Parliament juggles the competing demands of Defence, Law & Order, and Education. It meets every day to discuss matters of state in the capital city of Bielefeld City. The average income tax rate is 6%. A powerhouse of a private sector is led by the Automobile Manufacturing, Book Publishing, and Tourism industries.
The Sovereign State of Bielefeld's national animal is the honey badger, which frolics freely in the nation's many lush forests, its national religion isn't determined, and its currency is the Bielefeld Standard Dollar.
The Natio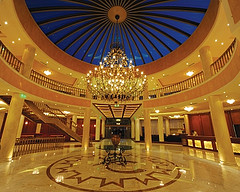 nal Government Seat is located Downtown in the Government District. Parliament meets daily to discuss issues.
Primary Members of Parliament
Prime Minister - Madam Thalia Heiss
Minister of Law and Order - Mr. John Banks
Minister of Finance - Mr. Alfred Marquet
Minister of Defense - Mr. Gregory Hemsig
Minister of Transportation - Ms. Yvette Main
The City of Bielefeld
Edit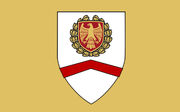 The City of Bielefeld is a tiny gem which sits on the nation's western coast. The City was constructed after the third Drone invasion devastated the old city (Vaffelhelm) and much of the planet.
Various nations such as the BranRiech and Germanic Templars provided raw materials for the construction. The work was carried out by the Nifidum.
The city has its own branch of government which oversees daily administration. The local government facilities and courthouse are in the Government District downtown.

Local Government
Mayor of Bielefeld - S. Ivan Kepler
Chief of Police - Anderson Thompson
AttractionsEdit
Bielefeld is culturally rich. The city boasts many to entertain citizens and tourists alike.
Amusement Parks
Aquariums
Movie Theatres
Capitol Movie Theatre - downtown. Rocky Horror shown every Tuesday at midnight.
United Artists Movie-Plex - eastern part of the city.
Fantazzle - drive-in theatre located on the north end of the city near the airport.
Museums
Observatory
Bielefeld Observatory sits high atop Cerillium hill. It is open to the public but those interested in using the facilities for research must pay for time on the telescope. Run by Tech-Priests (Cer), it also provides the city with accurate weather reports. Tours available on request.
Opera House
The Bielefeld Opera House, located Downtown, is one of the most exquisite buildings boasted by the city. The grand lobby greets visitors each night and there aren't any bad seats in the house. The stage is fully modernized and able to support a wide variety of shows.
Public Parks
Memorial Park at Ocean Point - Located in the Market District, this park is dedicated to all those who have lost their lives during the various disasters and invasions. A memorial wall stands in tribute to all those souls lost during prior invasions. A single tree stands in the very center to commemorate the loss of the Conservators killed in the last invasion. The park also features a massive giraffe statue.
Point Park - Located at the western corner of Subabsurdus and Main, this park features walking trails, a children's play area, and access to the beach.
Bielefeld State Park - Located north of the city, this park surrounds Raptor Lake. Campgrounds, picnic areas and cabins are available (in season) through the Department of Parks and Recreation. There is a collection of small bronze statues near the main pavilion, each dedicated to fallen velociraptor clones.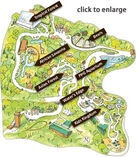 Lake Pearlelei - This lake is a stunning jewel set amidst a lush forest. Lake Pearlelei doesn't offer camping but there are various meditation spots and prayer gardens dedicated to a variety of pantheons. The lake itself is named after the goddess Pearlelei and a small shrine rests near one shore. A mural is also located in this park: it represents friendship and was the first mural ever drawn by the godling Giovenith upon her arrive in Vafflehelm. The mural once adorned a wall in the old Building on Subabsurdus, and was restored piece by piece from the ruins after the Drone invasion.
Zoo
The Bielefeld Zoo has recently completed a fennec exhibit as well as added to their honey badger exhibit. Located downtown (see large circle on the map), it promotes conservation and offers classes for young children.
Public OfferingsEdit
Education
University of Bielefeld - downtown.
Gateway Community College - downtown.
Strauss High School - Market District.
Cherry Creek High School - Downtown.
St. Stephens High School - private Catholic School.
Warwood Middle School - Market District.
Evar Middle School - Downtown.
Hospitals
University of Bielefeld Hospital (UBH) - The world-class faculty of the Hospital of the University of Bielefeld is dedicated to superior care, education and research for a better future. The Hospital is world-renowned for its clinical and research excellence, forging the way for newer and better ways to diagnose and treat illnesses and disorders. It boasts a stellar cardiac care facility and oncology center. Located downtown and with various smaller emergency clinic scattered throughout the city, this hospital is also prepared to handle mass casualties due to invasions.
Public Libraries
Bielefeld Public Library offers a wide variety of services, to include genealogical assistance, a reserved reading room, a collection of rare books and a small children's library. The main library is located downtown however there are branches spread throughout the city.
Marina
Religious Needs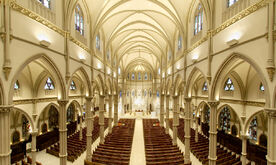 TransportationEdit
The Ministry of Public Transportation (MoT) provide a variety of options for citizens and visitors alike.
Airports
Larry Foulke International Airport - located north of Bielefeld City.
Bielefeld Airport - a small airport south of the city, Agricultural District.
Rail System
Trains - High speed trains offer convenience to commuters. The main railway station is downtown but there are stations scattered along the line. It covers the outer area of the city before moving on to other parts of the sovereign state.
Subway - There's also a subway system for local commutes in the inner core. This system mainly covers the market district, downtown district, industrial district and loops through the residential areas. It's restricted to just the city of Bielefeld. There are some tunnels made for defense purposes but those dark areas aren't accessible.
Surface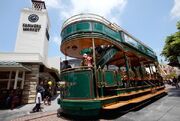 Bus Lines -In addition, there are buses and cabs.
Streetcar (Market District only) - The market district has an old-fashioned streetcar that travels back and forth on the main street (no other vehicles are permitted on that coastal road.)
Privately owned taxi services. Rates may vary.
City History - Major EventsEdit
Slideshow - Sightseeing in the City of BielefeldEdit
Community content is available under
CC-BY-SA
unless otherwise noted.